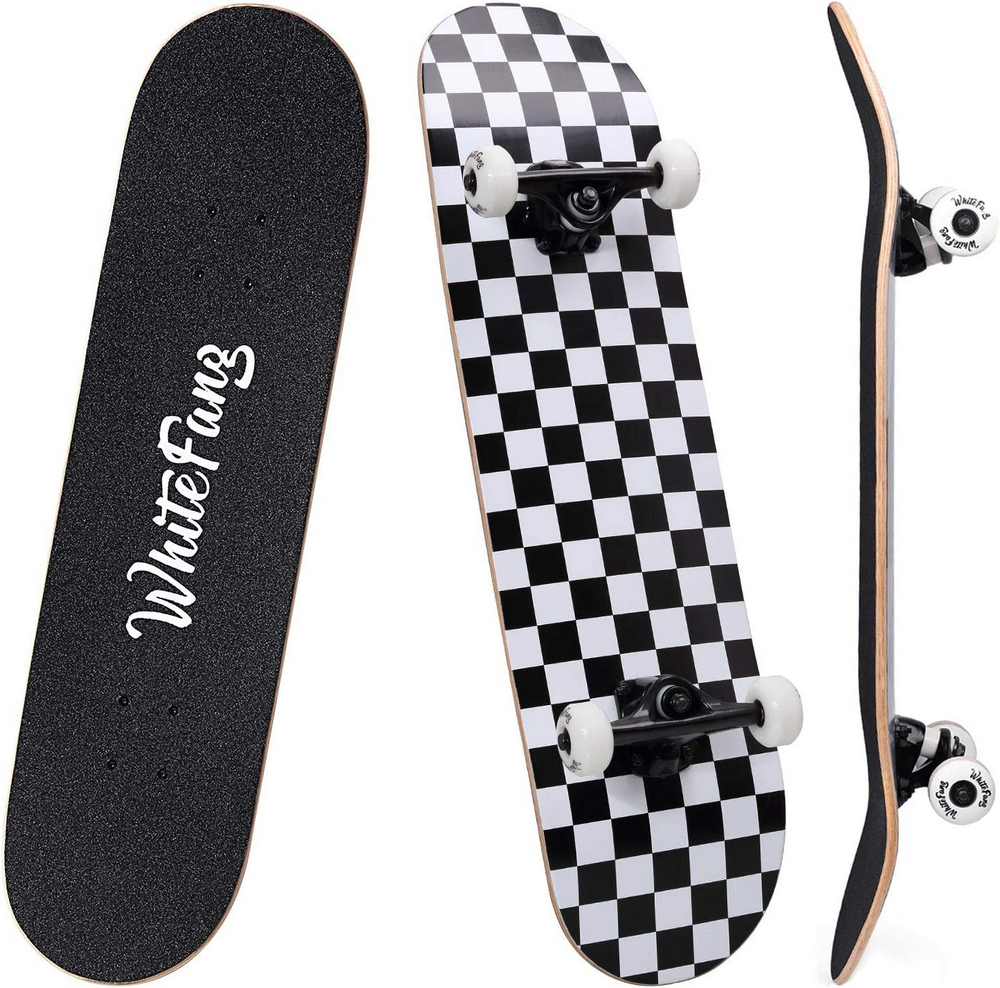 RWAS White Fang Pro Skateboard
7 layers Canadian maple deck, 31.75″ 7.88″, offers perfect balance between toughness and weight. Maximum load weight up to 220 pounds, equipped with 5 inch magnesium alloy trucks. Reliable for beginners and skilled riders. Super smooth (52mm, 95A) High rebound PU wheels with ABEC-9 precision bearings and 95A High rebound PU bushing; Our wheel can give you quick response from the ground, suitable for commuting, skate parks, ramps, pools and other smooth surfaces or even rough ground. Master New Tricks : ️double kick dissymmetric concave combines with customized emery sand paper give your feet enough locked feeling ,help you learn new tricks quickly. Graphic Design: Minimalist Black & White graphic design , printed with thermal transfer printing process allows greater print durability.
---
---
---
Ticket Deals For Your Favorite Sporting Events
---
Sports News
The Chicago Bears are 0-4 to start the season. It's certainly not the first time the "Monsters of the Midway" have started the season with multiple losses. After all, we lived through the John Fox era, but somehow, after several seasons of big expectations, and devastating results, this season's start […]

Here is where we look at some of the athletes and sports figures we've lost in 2023. That list includes football legend Jim Brown, basketball HoFer Willis Reed, hockey Hall of Famer Bobby Hull, Heisman Trophy-winning running back Charles White, three-time World Series Champion Vida Blue, former MLB catcher and…Read […]

There was a moment, back in 2021, that should have given the Bears a long pause before trading for Chase Claypool, if not put them off him entirely. But then, as we've established, the Bears are incapable of making good decisions.Read more…

Nearly a quarter of the NFL season is in the books, and you can't help but wonder about some of the people and decisions that have dominated the headlines to this point. One major storyline entering the season was Sean Payton taking over and potentially turning Denver around. Thus far, […]

If you've been online at all during the past 48 hours, you've heard about ESPN's Toy Story broadcast. Here's how Disney (ESPN's parent company) described the AI-generated animation:Read more…
---
Fitness Essentials
Bowflex Select Tech 552 Adjustable Dumbbells
Gatorade Thirst Quencher, Frost Variety Pack
---
Some links on this site may be affiliate links to merchants that we may receive commissions based on qualifying purchases.
---
Road Warrior Athletics & Sportswear